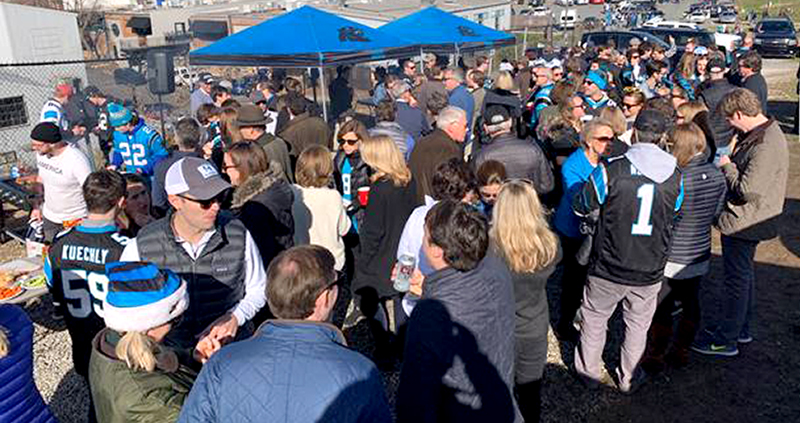 It's Game Day! This, of course, has me thinking about football food. What better to go with burgers and barbecue sliders than jazzed up Vegetable Dill Slaw, page 175 in Effortless Entertaining. This slaw was inspired by Gourmet Magazine and goes beyond the quick mayo, mustard, vinegar, and celery seed version I whip up on the fly. This might take a little more time, but worth every minute of extra chopping. Your fans will love it!
Go Panthers!
---
Vegetable Dill Slaw
Serves 6–8 Hester Hodde
Ingredients
DRESSING
1 tbsp red wine vinegar
1 tbsp white wine vinegar
¼ cup sugar
1½ cups mayonnaise
¼ tsp celery seed
¼ tsp garlic salt
SALAD
1 med cabbage, chopped
½ cup shredded carrots
½ cup chopped sweet red pepper
½ cup chopped sweet yellow pepper
3 tbsp chopped onion
½ cup chopped celery
1 tbsp chopped dill
½ tbsp chopped Italian parsley
1 cup halved grape tomatoes
Printer-Friendly Recipe | Read more on EE
Directions
For the dressing, whisk vinegars and sugar to dissolve sugar. Add remaining ingredients and blend well.
Place salad ingredients except tomatoes in a large bowl. Mix with dressing. Cover and chill overnight.
Just prior to serving, add tomatoes.
DeeDee's Notes
Recipe may be prepared up to 2 days in advance.
Dressing makes more than is needed. After slaw has marinated in dressing, you may want to transfer mixture to serving bowl using a slotted spoon. Discard extra dressing.
You may use prepackaged cabbage mix. I have also made this recipe without the tomatoes.
Increases well.
---
DeeDee is the author of Effortless Entertaining, Open Your Home, Open Your Heart, and Give the Gift of Hospitality, your complete and beautiful guide for entertaining easily and graciously in your home with inspiring ideas and practical resources. DeeDee also speaks to groups of women sharing her Ten Steps To Effortless Entertaining.
To learn more about Effortless Entertaining or to invite DeeDee to speak, visit MyEffortlessEntertaining.com or email [email protected]