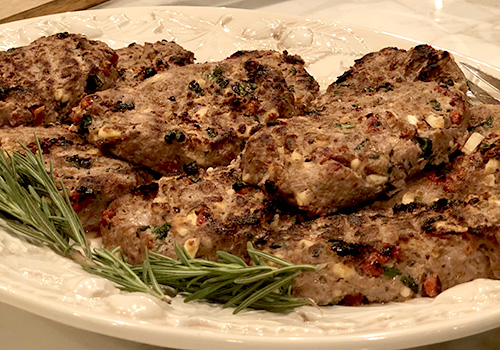 DEAR FRIENDS,
If you indulged a little this summer and you're looking for something a little lighter, I've got just the thing! Mediterranean Turkey Burgers. I know what you're thinking … how can a Turkey Burger be that great. Trust me! This recipe comes from close friend and great cook, Hester Hodde. She told me she had served to rave reviews and when I had them last summer, I was a believer. You will wow your guests and feel so very healthy.
To enjoy with the entire Mediterranean Turkey Menu, visit the BLOG on the EE website.
Enjoy!
---
MEDITERRANEAN TURKEY BURGERS
Serves 6 Hester Hodde
INGREDIENTS
1 8.5-oz jar julienned sundried tomatoes in olive oil and herbs
2 lbs ground turkey
8 oz feta cheese, crumbled
½ cup chopped basil
2 tbsp Worcestershire sauce
2 tsp salt
DIRECTIONS
Drain tomatoes and chop.
In a large bowl, using your hands, mix all ingredients. Form into 6 patties.
Place turkey burgers on a foil-lined baking sheet. Sear under the broiler for 5 min until well browned. You may also sear in a pan on the stovetop.
Cover with foil. Reduce oven temperature to 250° and cook for 5–10 min until just done, 170–180°.
Do not overcook!
DEEDEE'S NOTES
Recipe may be prepped one day in advance.
For the ground turkey, be sure to avoid all white meat (99% lean) and use a mix of white and dark (85% lean) for more moist, flavorful burgers.
Turkey burgers will shrink as they cook.
Hester recommends California Sun Dry tomatoes.
You may want to use disposable food-prep gloves to mix and form the burgers.
---
Become a Member of the Effortless Entertaining Community
---
DeeDee is the author of Effortless Entertaining, Open Your Home, Open Your Heart, and Give the Gift of Hospitality, your complete and beautiful guide for entertaining easily and graciously in your home with inspiring ideas and practical resources. DeeDee also speaks to groups of women sharing her Ten Steps To Effortless Entertaining.
To learn more about Effortless Entertaining or to invite DeeDee to speak, visit MyEffortlessEntertaining.com or email [email protected]