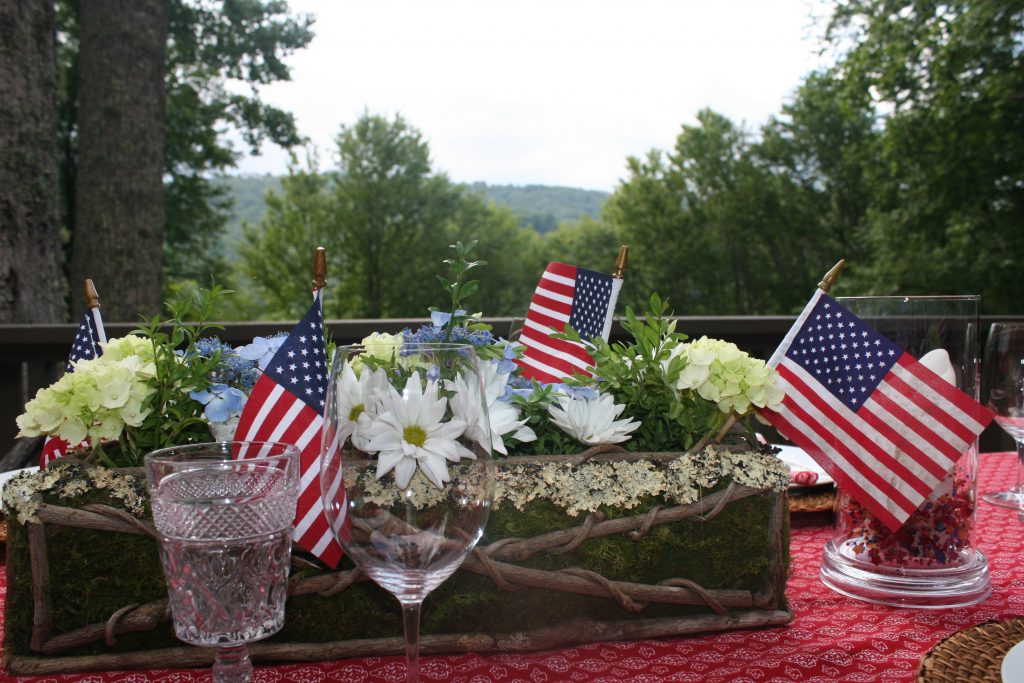 Guest post contributed by DeeDee Dalrymple of Effortless Entertaining
Let's make our July 4th gatherings effortless with good planning and prep. With sixteen family members and friends coming to our home at Grandfather, my planning has already begun. If you too are having a crowd, it's not too late to get ready so you have plenty of time to enjoy all the festivities. 
I'm offering a glimpse of my list. While my list will evolve as we add tee times and other information, this will give you an idea of my process. I keep my list in the Notes function on my phone. I can easily add and edit and once it's complete, I will email the list to my guests to provide everything they need to know. Once everyone arrives, I post the list on the frig 🙂
Many of the recipes can be prepped or prepared in advance. You can see on the list all the items that are already done and those that we'll prepare that week. I will also make my grocery list in Notes. This too will be effortless as I simply copy and paste the ingredients needed into Notes from the EE Recipes online. For those of you who have the guide, you too can do this! If you have a guide and don't have an online login, please email me so we can set that up for you.
Take a look at the list below and start making your list too. We've provided PDFs below that will help you get started. Step Nine in Effortless Entertaining, "Plan Your Work and Work Your Plan." With good planning and prep, we can all enjoy our family and friends!
Wishing you an effortless and happy 4th of July!
[email protected]
Follow EE on Instagram and Facebook
---
July 4th 10-Day GamePlan 🇺🇸🇺🇸🇺🇸
16 people
Dress
Casual – golf shirt, shorts, jeans for boys and casual dresses or jeans for girls
Nice Casual – long sleeve shirts for men and casual dresses or cute tops with jeans for girls
Cocktail "Lite" – fun, a little dressier than dinner dress
What to Pack
Jacket, Tie, Cocktail "Lite" Dress for Family Dance
Long sleeve dress shirts, cute tops, casual dresses, jeans
Work out, hiking, and tennis clothes
Bathing suits
Wraps, Sweaters
Golf Clubs and shoes
Breakfast
Eggs & Egg Casserole
Toast
Bacon
Avocado
Blueberry Muffins
Lunch
OYO – On Your Own – Sandwiches, 10th Tee, Beach, Scottish Grill
Signature Cocktails
Cucumber Jalapeño Limeade
Blueberry Lemonade
Be-Mixed Cocktails
On Hand
Sandwich Fixins – Turkey, Pimento Cheese, Cheeses, Avocado, Pesto
Fiesta Black Bean Salad
Chips
Fruit
Prepare in Advance
Egg Casserole Prep ✔️
Egg Casserole Muffins ✔️
Blueberry Muffins ✔️
Chocolate Fudge Sauce ✔️
Game Day Brownies ✔️
Irwin's Super Brownies ✔️
Lawdashions Pork Rub & Sauce ✔️
Ribs Rub & Barbecue Sauce – 6/22
Pimento Cheese – 7/1
Cucumber Spread – 7/1
Cocktail Prep – 7/1
Fiesta Black Bean Salad – 7/2
Orzo Salad – 7/2
Vegetable Salad – 7/3
Cheesy Scalloped Potatoes – 7/3
Watermelon Gazpacho – 7/4
Slaw – 7/6
Friday, June 28
Birthday Dinner at home, 
Salmon, Peel & Eat Shrimp, Asparagus, Caesar Salad, Game Day Brownies & Ice Cream
Dress – Casual
Saturday, June 29
Golf
Dinner on the Patio
Dress – Coat, no tie
Sunday, June 30
Dinner at home
Lawdashions Pork Tenderloin,
Rice, Salad
Dress – Casual
Monday, July 1
Dinner at home
Beer Can Chicken, Salad
Dress – Casual
Tuesday, July 2
Dinner on the Patio
Dress – Nice Casual
Wednesday, July 3
Everyone arrives! 😍
Chip, Putt, Drink
Pick Up Dinner at home
Pimento Cheese, Cucumber Spread, Turkey Sandwiches, Orzo Salad, Game Day Brownies
Dress – Casual
Thursday, July 4
Golf, Tee Times TBD
Dinner at home
Watermelon Gazpacho, Beef Tenderloin, Vegetable Salad, Cheesy Scalloped Potatoes, Sour Cream Rolls
Dress – Casual
Friday, July 5
Golf, Tee Times TBD
Family Dance
Dress – Coat, Tie, Cocktail "Lite"
Saturday, July 6
Whitley Cup
Dinner at home
Guacamole, Ribs, Hampton Store Barbecue, Slaw, Tomatoes and Mozzarella, Succotash
Fireworks
Dress – Casual
Sunday, July 7
---
Printer-friendly Fillable One-Week GamePlan
Printer-friendly Fillable Shopping List
(Best filled out in your Web-browser or Adobe Acrobat)
---
DeeDee is the author of Effortless Entertaining, Open Your Home, Open Your Heart, and Give the Gift of Hospitality, your complete and beautiful guide for entertaining easily and graciously in your home with inspiring ideas and practical resources. DeeDee also speaks to groups of women sharing her Ten Steps To Effortless Entertaining.
To learn more about Effortless Entertaining or to invite DeeDee to speak, visit MyEffortlessEntertaining.com or email [email protected]